Eating Disorders Boot Camp LIVE Workshops
EATING DISORDERS BOOT CAMP is back!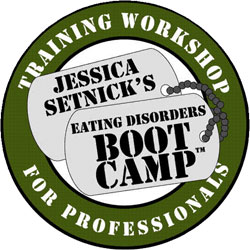 EATING DISORDERS BOOT CAMP is back!
After a seven-year hiatus and for a limited time, Jessica Setnick is once again presenting this phenomenal training workshop in locations around the country.
[If you are looking for the Eating Disorders Boot Camp Home-Study Course, click here.]
EATING DISORDERS BOOT CAMP is the premier training workshop to bridge the gap between academic research and the practical tools you need right now to help your patients and clients.
Unlike typical conference sessions where the topic is totally pre-planned and only a few minutes are set aside for questions, EATING DISORDERS BOOT CAMP provides a truly interactive framework in which the needs of the participants always direct the course.
Every EATING DISORDERS BOOT CAMP is different, and topics are determined by the areas of practice and specific concerns brought forward by attendees.
Whether you have been in practice a short time or many years, if you spend your day helping individuals with dysfunctional eating (and who doesn't?) then EATING DISORDERS BOOT CAMP is for you.
If you need a confidence boost, an update on the latest and greatest, confirmation that you're "doing it right," or the nuts and bolts of eating disorder treatment, reserve your spot in one of the upcoming locations for the most comprehensive and practical workshop you will attend.
What your colleagues have said about EATING DISORDERS BOOT CAMP:
"I don't know how she made the time speed by like that, but Jessica's enthusiasm and great ideas had me engaged and invested from minute one... and after a day and a half, I didn't want it to end!"
"I don't know how I did my job before this workshop. I can tell I'll be doing it a LOT better now."
"Before I got here I worried that it was a big investment of time and money. But the tools I learned and the boundary advice are priceless. It would still be worth it for twice the price."
Eating Disorders Boot Camps are held from 9am-4pm the first day and 9am-noon the second day. Your registration fee includes:
The Eating Disorders Boot Camp Manual, including all slides, articles, handouts and resources discussed in the workshop;
A Certificate of Completion for all professions, including 9 CEUs for Registered Dietitians;
Breakfast on both days and lunch on the first day;
Copies of both of Jessica's books, The Eating Disorders Clinical Pocket Guide, Second Edition and The Academy of Nutrition and Dietetics Pocket Guide to Eating Disorders, Second Edition.
Workshops are currently scheduled for:
Tucson, Arizona - February 16-17, 2017
Lincoln, Nebraska - February 24-25, 2017
Additional locations under consideration:
Houston Dallas Charlotte
LA Indianapolis Seattle
Cleveland Toronto New York
Fort Lauderdale DC Area
If you would like to be notified when additional Boot Camps are announced, or if you would like to bring Eating Disorders Boot Camp to your area, email info@UnderstandingNutrition.com.
Send Tell-A-Friend Message
We thought you would be interested in these related items.
Eating Disorders Boot Camp Home-Study Course

The premier Eating Disorders course that you've been dreaming about! Jessica Setnick's Eating Disorders Boot Camp Home-Study Course includes audio CDs, the full Boot Camp Manual, 9 CEUs, 30-minutes of consultation with Jessica (!!!) and more!
View Item