Ultimate Eating Disorders Boot Camp Training Package
Everything you need to get up to speed on nutrition counseling for eating disorders, together for the first time in one package.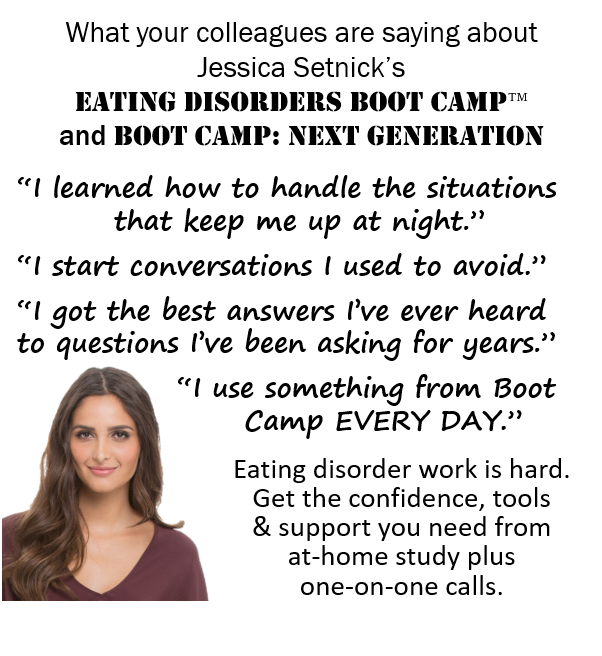 This comprehensive eating disorder training package brings you three workshops, two books, dozens of informational handouts, and a one-on-one phone call with eating disorder treatment expert Jessica Setnick. Covering eating disorder treatment from head to toe and A to Z, this package includes:
1. Jessica Setnick's Eating Disorders Boot Camp: Basic Training for Health Professionals. This is the original, gold-standard workshop that introduced over a thousand dieitians, therapists, nurses and physician assistants to identifying, assessing and treating individuals with eating disorders and related issues in every patient population. With authenticity, compassion, and personal stories, Jessica shares her assessment and treatment tips and techniques that you will learn, love, and listen to again and again. Including:
Structuring Sessions
Eating, Weight & Physical Activity Guidelines
Professional Issues & Working With a Team
Nutrition Assessment
Nutrition Counseling Strategies
Encouraging Behavior Change Tools & Strategies
Food Diaries
Medical Issues, Possible Complications, and What to Do About Them
Levels of Care
Making Referrals to Other Professionals
Struggles & Special Concerns
Working with Children and Families
How DSM-5 Changed the Field
2. Advanced Eating Disorders Boot Camp: Special Forces Training, when Jessica invited four amazing experts to share their expertise, and the only workshop that covers these four topics and their relationship to eating disorders:
Addictions with Mark Bird
CBT with Beau Nelson
Endocrinology with Marilyn Cox
Obsessive-Compulsive Disorder with Kim Rockwell-Evans
3. Eating Disorders Boot Camp: Next Generation, where Jessica covers these up-to-the-moment topics and many others:
Setting Expectations and Holding Boundaries
When Patients or Their Parents Don't Agree with Your Recommendations
When A Patient's Condition Isn't Improving
ARFID (Avoidant-Restrictive Food Intake Disorder)
Orthorexia
Navigating Dysfunctional Team Communication
Keeping Your Cool During Challenging Conversations
Food Preferences vs. Eating Dysfunction
4. All slides and handouts from the original presentations.

5. A one-on-one call with Jessica to ask questions and discuss your current professional and patient situations (this is the CDR-required interactive portion and serves in lieu of a written test).

6. 33 pre-approved continuing education credits for CDR-credentialed professionals (RDNs and DTRs).

7. A certificate of completion for all professions.

8. NEW! An institutional license, authorizing your facility or practice to share all included mp3s and materials with an unlimited number of current or future staff members. (Note that only those who participate in a follow-up phone call with Jessica will receive continuing education credit and a certificate of completion as the call serves as the CDR-required interactive portion of the course. One call for up to six participants is included in the package. Additional participant calls can be purchased at a later date if desired.)

8. BONUS #1: Copies of both of Jessica's eating disorders books: The Eating Disorders Clinical Pocket Guide: Quick Reference for Healthcare Providers, Second Edition, and The Academy of Nutrition & Dietetics Pocket Guide to Eating Disorders, Second Edition. These books are known around the world for their concise and sensible approach to what we know and what we don't know yet about eating disorder treatment.

9. BONUS #2: Jessica's upcoming e-book, The Outpatient Dietitian's Big Book of Answers: The Cure for the Questions that Keep You Up at Night. Not yet available, you will be one of the first to receive the e-version of this book when it's published.

Once you order, you will receive a link to each workshop's mp3s and accompanying materials, as well as instructions for setting up your call with Jessica. Your books will be shipped at no charge to US mailing addresses. If your mailing address is outside of the United States, Celena will get your prior approval of the shipping charge before sending the books.

If you have any questions or would like to pay in installments, please email Celena at info@understandingnutrition.com.
Send Tell-A-Friend Message