A Dietitian's Guide to Professional Speaking: Expert Advice for Pitching, Presenting & Getting Paid!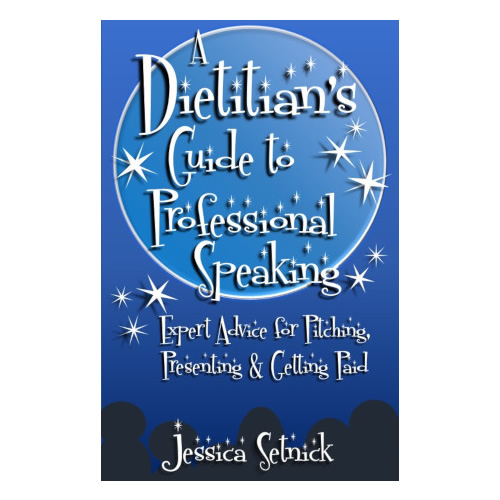 Get ready to grow your paycheck with the book that has dietitians talking… literally!
Whether you're an experienced presenter or just starting out, if public speaking is your ultimate high or your recurring nightmare, you'll appreciate the incredible wealth of information, insight and intimate details in
A Dietitian's Guide to Professional Speaking by Jessica Setnick
.
The beauty of being a dietitian is there's always something to talk about! Interest in nutrition topics is high, continuing education is always in demand, and with technology, you don't even need to be in the same time zone as your audience!
But how do you get people to pay for your talks when they can get information online for free – or worse, another dietitian who doesn't ask to be paid!?
Jessica Setnick faced this exact situation and came out on top, and now she's written a book to help you do the same. She shares all her methods and secrets with you while somehow entertaining you at the same time – in fact it's a lot like listening to her at a dietitian workshop. If you're wondering why she would create her own competition, it's because Jessica doesn't think that way. According to her, every dietitian has something to say, and the more of us out there, the better we make the world.
So what will you get with the
A Dietitian's Guide to Professional Speaking
?
First, you'll create your Unique Speaking Platform.


Then it's on to Publicity & Marketing, where she details each marketing item and what it should (and shouldn't!) contain.


Your next lessons are on Pricing, Pitching & Negotiating Fees, with exact words to say and in what order, including how to overcome your fear of rejection.


Then you'll get to Logistics, Contracts, Planning Your Own Events, Conference Proposals, Presenting on the Road, Preparing Your Content, Planning What to Wear, Presentation Problem-Solving, Performance Anxiety, Presentation Follow-Up, Pursuing Payment, Evaluations… Basically everything Jessica learned through trial and error to get through the entire speaking process from beginning to end with dignity intact and the highest fee possible.
If you're ready to level up your speaking career, you can't wait another day to read A Dietitian's Guide to Professional Speaking. Available as an instant pdf download. Order now and within minutes you'll have the best dietitian speaking advice money can buy.
For bulk orders or if you are considering using this dietitian learning resource as a textbook, contact Celena Caballero at

[email protected]

.
I love how you keep your finger on the pulse and keep putting great work out for us RDs to use. Love it! And love the "real you" in how it's written and flows. The Dietician Speaking Guide is such an amazing resource. One of the many things Jessica has done for our field is elevated the role of the RDN. Yes to speaking AND getting paid!!
- Dietitian Speaker Marci Evans
I'm quite enjoying the book… I was howling in outrage on your behalf when reading about your payment snafus!
- Dietitian Speaker Carrie Dennett
Jessica not only has a talent to figure out the niches dieticians need info about, her writing is out of control fantastic. The conversational tone of this book is filled with compassion, humor, and the kind of support dietitians are so hungry for.
- Dietitian Speaker Francie White
Not only is the material itself great, but the whole book is infused with a warm, non-judgemental and no-nonsense energy which I absolutely loved and made it so wonderful to read.
OMG, I loved your book. I found it so very helpful as you brought up every single aspect that someone only with your depth and breadth of experience could possibly have encountered! I love the PS's they are great as it shows you are not only the expert but have human experiences and how you handled them (with grace and dignity). Finally, your personality shines through it all. I just finished this talk and I feel so grateful and exhilarated because I can honestly say it ROCKED. Now I feel like a speaker. Up until now I thought of myself as someone who can speak if pushed to do, so but at this moment - I feel like a speaker. A genuine "dietitian speaker." I can't thank you enough for the book.
- Private Practice Dietitian
I totally thought of [A Dietitian's Guide to Professional Speaking] when I was in the middle of negotiating a speaking arrangement. I basically said in my head I really want to do this but it's not my ideal audience so what's the number that makes it worth it for me to spend 3 hours of my time there.... and I got it!! yay!!! So thank you so much, you and your book just made a huge difference in my business :) YOU ARE AMAZING :)
- Dietitian Business Coach
I love the book! I've got written notes and pages flagged throughout. (On page 74, I wrote 'this is gold!'). At first I thought this is valuable for any profession. But then reading it, I see how specific (and important) it is to dietitians because you know our profession. It is a must-have for all dietitians.
- Jennifer Neily
Neily on Nutrition
What a fantastic- very useful book- Great job- presented in a great format which made it very enjoyable to read.
- Field service specialist
As much as I love speaking, I haven't made it a priority goal in my business (up until now!) because I didn't really know how to monetize speaking in a way that made sense to my business. As always, Jessica breaks down complicated topics into realistic solutions and this book taught me exactly how to create my own Unique Speaking Platform. At the beginning of this book, my heart was pulled in many different directions when it came to pitching myself. I wanted to do it all! After going through the exercises in the book, I now have a clear plan of what's in front of me: a templated pitch for in-person speaking events and podcast interviews, an outline of possible speaking presentations that make sense for my business, and MUCH more confidence that I can make speaking part of my professional business plan. I was able to let go of so many things that just are not needed in my business and feel energized to focus on the pitches that matter. Jessica always has a way to add in her own personal touch to anything that she does to make you feel as if you can do it too. She adds in her experiences with speaking from setting up presentations, deciding fees, organizing a presentation, and also potential disasters that could happen the day of the event! This book is truly an inspiration and step-by-step guide for anyone wanting to add speaking to their professional career.
- Jennifer McGurk, Author of Pursuing Private Practice and Dietitian Business School
As soon as I saw the announcement of "A Dietitian's Guide to Professional Speaking" I ordered a copy! Even though I have been speaking professionally for a number of years, I consider Jessica THE expert and jumped at the opportunity to learn from her. Her book is a fantastic resource and I found out there was so much more I could do to enhance my USP and market more effectively. I'd highly recommend this as a must-read for any dietitian wanting to get started speaking professionally or improve upon what they're already doing!
- Holly Paulsen, Eating Disorder and Diabetes Dietitian Speaker
This book is packed with so much useful information that will save RDNs countless time and headaches. And I loved reading it! I almost missed my stop on the train.
- Molly Kellogg, Counseling Skills for Dietitians Workshop Presenter
I spoke in front of 65 people this week, and I was much calmer. Anxiety was less. Thank you for your words of wisdom!
- Professional Relations Liaison
I actually kinda enjoyed doing the presentation. Last summer I was terrified. After your USP makeover and coaching I decided to send a proposal to NASW for their conference in October. I won't hear until May....and who knows with the pandemic how it will all play out, but just me submitting a proposal was a huge step for me. I give you so much credit for helping me gain some confidence
I was so excited to see that you would be presenting on speaking - it's honestly the main reason why I went to the conference. You got be ready to get back into the speaking world. I actually just submitted a proposal. I feel like it's time to break through the BS and reclaim my speaking power!
Picked up your book to get a quick idea before bed. Well that was 40 minutes ago and I just kept reading another page or two.
I got home last night and found the package with your new book in it. It's wonderful. I skipped around to the parts that I needed most, and found that it's a tremendous help to me. I don't speak very often—it's been several years since my last talk, and I have two coming up in the next two months. You answered some important questions I've had in my preparation, and I'm so grateful.
- Elyse Resch, author of Intuitive Eating