Double Your Referrals... Without Getting Off the Couch!
Everyone says "Work Smarter, Not Harder" but doesn't tell you WHAT to do. That all changes with "Double Your Referrals...Without Getting Off the Couch."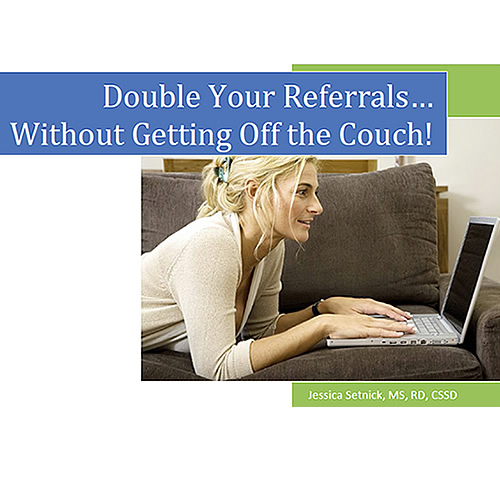 Stop wasting your time on tactics that don't pay off.
For only $105 - Less than the price of one visit with you! - You get all this...
The Single Most Crucial Strategy to Getting Referrals – If You're Not Using it, You're Throwing Away Money
Why Everything You've Learned About Getting New Patients is Wrong
How You Can Get More Accomplished in One Afternoon on the Couch than in a Week Driving Around Town
The Untapped Resource Already There in Your Office
How to Get More of Your Favorite Kind of Patients
How to Save Yourself Hundreds of Dollars A Year on Advertising
How To Market Yourself Even if You Hate Marketing Yourself
The Single Most Important Piece of Paper You Need to Grow Your Practice
The Single Most Important Piece of Information You Need to Get From Each Patient
How to Approach Doctors You Don't Know and EXACTLY What to Say
Why You Should Never Leave a Detailed Voicemail for a Doctor You Don't Know
The One Thing You Should NEVER Say If You Want Someone to Refer to You – And What to Say Instead
What Doctors REALLY Want Instead of Fruit Baskets and Thank You Cards (Hint: It's FREE!)
Why You Should Never Type Up Another Patient Report
What To Send to a Doctor With Your Business Cards (Hint: It's Not a Referral Form) and The One Thing NEVER to Write on the Envelope
Why You SHOULD Be Referring Out to Other Dietitians
How to Start Getting Patient Referrals if You Are Brand New in Private Practice
How to Start Getting Patient Referrals Even if Private Practice is Your First Job Out of School
Why You Should Reach Out to Your Competition and People Who Hate Your Specialty Area
The Double Your Referrals… Without Getting Off The Couch Webinar contains the same information that individuals and companies pay Jessica hundreds of dollars in consulting fees to get. This is your opportunity to get the same expert advice WITHOUT the high-dollar price tag.
Here's what your colleagues have said about Double Your Referrals...Without Getting Off the Couch:

"You sincerely want to support other dietitians in the field, and did so by sharing your "secrets" in the webinar. As I was thinking about your assistance to those of us venturing into private practice, one of the greatest things you offer is hope and encouragement which is so valuable."

"It was excellent. Thank you for sharing such valuable knowledge with us."

"Thanks for the outstanding webinar! Truly worth the time and price. Your energy and confidence are inspiring. I also love your idea about increasing the size of the pie – new territory in RD thinking!"

"The BEST money I ever spent."