Eating Disorders Boot Camp
You're about to join thousands of other dietitians who launched to the next level with Eating Disorders Boot Camp!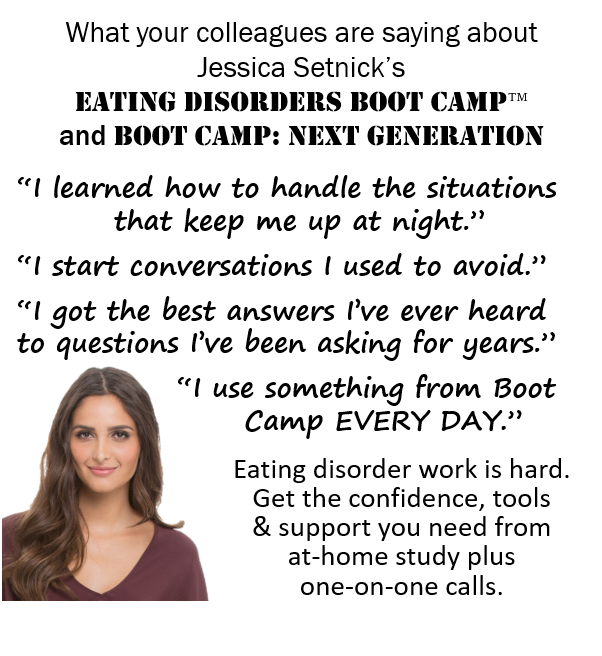 This Eating Disorders Boot Camp Package is the ultimate eating disorders training that bring you the foundational and advanced information you need to work competently with individuals with eating disorders and related problems. It's an unbelievable value even at twice the price, because you get all of these things:
1. The Original Jessica Setnick's Eating Disorders Boot Camp: Basic Training. This is the gold-standard, 10-hour workshop (often imitated, never duplicated!) that has introduced over two thousand dietitians to identifying, assessing and treating individuals with eating disorders and related issues in every patient population. With authenticity, compassion, and personal stories from decades in practice, Jessica shares tips and techniques that you'll learn, love, and listen to again and again. Topics include:
Universal Precautions for Dietitians
Eating Disorder Diagnoses - When They Are and Aren't Important
Structuring Initial and Follow-up Sessions
Starting and Advancing Meal Plans and Other Nutrition Recommendations
Parameters for Goal Weights and Physical Activity
Strategies to Stop Purging
Roles Within a Treatment Team
Behavior Change Tools
Food Rules and Records
Automatic and Alternative Thoughts
Medical Issues and Complications
Guidelines for Higher Levels of Care
Making Referrals to Other Professionals
When Your Patient Disagrees with You
Strong Feelings - Yours and Your Patient's
Personality Disorders
Working with Children and Families
How DSM-5 Changed the Field
How to Know You're Staying in Your Scope of Practice
Separating Food and Feelings
Legalizing Food
Empty Feelings Besides Hunger
The Traffic Light Method of Handling Feelings
The Fat Funnel
Deactivating The Domino Chain of Problem Behavior
Spot the Different Types of Binge Eating
Benefits of Eating Disorders and Fears of Change
Separating Food and Feelings
Translating Fat Thoughts
The Apple Test
and many, many more.
2. The second workshop, Advanced Eating Disorders Boot Camp: Special Forces Training, when Jessica invited four amazing experts to share their expertise about their specialty areas. This is the only workshop we know of that covers these four crossover topics and their interacting relationships with eating disorders:
Addictions with Mark Bird
Rational Emotive Behavior Therapy with Beau Nelson
Endocrinology with Marilyn Cox
Obsessive-Compulsive Disorder with Kim Rockwell-Evans
The handouts alone from this workshop are priceless and aren't available anywhere else.
3. The newest workshop, Eating Disorders Boot Camp: Next Generation, in your choice of a live Zoom call on November 6-7, 2020, or a recorded version you can listen to right now, where Jessica covers these up-to-the-moment topics:
The Best Way to Hold Your Boundaries
When Family Members Disagree with Your Recommendations
When A Patient's Condition Isn't Improving
What Avoidant-Restrictive Food Intake Disorder Really Means
How Can Healthy Eating Be Bad? Understanding Orthorexia
How to Respond to Anosognosia
Navigating Treatment Team Communication Problems
The Origins of Dysfunctional Eating Behaviors and Why They Matter
Keeping Your Cool During Challenging Conversations
Is It Restriction or Just Food Preferences?
Predicting Problem Behaviors Before they Happen
De-fusing Thoughts from Reality
The Missing Steps in Prochaska's Change Process
The Separating Food and Feelings Meal Process
The Three Stages and Seven Steps of Nutrition Rehabilitation
Four Types of Binge Eating
Secrets of Night Eating Syndrome
Spin a Lapse into Continued Recovery
How to Replace Toxic Shame with Regret
Avoid Waterfalls with the Bullseye Model
other topics too numerous to mention, plus Jessica's answers to case questions from the group.

These three workshops are all mp3s that you can either stream online or download to your computer or phone and listen to as many times as you want.

You also get:
4. All slides and handouts from the original presentations in pdf format. You can follow along online while you listen, print hard copies to keep, or save to your computer for future reference. All patient education handouts are in pdf form with permission to print an unlimited number of times for use in your practice.

5. Eating Disorder Nutrition Counseling Training Videos featuring Jessica mock counseling her summer interns, demonstrating different situations and scenarios.

6. A 30-minute phone or video call with Jessica. (YES, really!) We don't know of any other online eating disorder course that includes a live call with the speaker. This is your opportunity to ask questions and discuss your current professional and patient situations with Jessica. (Don't worry, she's really nice. But if you really don't want to, this call is only required if you are a CDR-credentialed practitioner and wish to receive CEUs.)

7. A certificate of completion and 34 Pre-approved Continuing Professional Education Units for CDR-credentialed professionals (RDNs and DTRs).

This is the first time all of this audio, video, information and support has ever been included in one package, for less than the cost of purchasing them individually and much less than traveling to a conference where you hope the things you want to know will be covered.

The Ultimate Eating Disorders Training for Dietitians Package also includes copies of every one of Jessica's books (even the one that isn't published yet!) -

8. The Eating Disorders Clinical Pocket Guide: Quick Reference for Healthcare Providers, Second Edition. This tiny but mighty spiral-bound powerhouse is known around the world for easy-to-find and essential information like diagnostic codes and criteria, assessment questions for each type of behavior, lists of acronyms, and so much more.

9. The Academy of Nutrition & Dietetics Pocket Guide to Eating Disorders, Second Edition. Structured around the Nutrition Care Model, this book has A to Z all the evidence-based and practical guidelines to what we know and what we don't know yet about eating disorder nutrition counseling, including drug-nutrient interactions, PES statements, interpretation of lab values, and on and on and on.

10. The Counseling Dietitian's Big Book of Answers: The Cure for the Questions that Keep You Up at Night. This is Jessica's long-awaited compilation of actual questions from dietitians she's received over the years and her straight-forward, comforting (and sometimes surprising!) answers. You'll be one of the first to receive a copy as soon as it's complete.

11. A Dietitian's Guide to Professional Speaking: Expert Advice for Pitching, Presenting & Getting Paid. No, this isn't an eating disorders book. But Jessica believes that every dietitian has something important to say and wants to help lift up your voice, whether in your community or across the planet.

12. The Eating Disorders Book of Hope and Healing: Advice for Anyone Who Eats. Jessica's very first "book," this pack of supportive mini-cards is the perfect pocket-sized support partner for you or someone you know. It's also a great conversation starter for a support group or nutrition group you lead.

You also have the option of purchasing a multiple participant package so that all the dietitians in your facility or practice (including those you haven't hired yet) can listen, learn and receive CEUs. The multiple participant package comes with a license authorizing you to share all the Boot Camp package materials with an unlimited number of current and future staff members. One call for up to six dietitians is included in the package, and additional participant calls can be purchased at a later date if desired. (A call is only required for those dietitians who wish to receive CEU credit.) Your materials will be stored on a private, password-protected page in the cloud and can be streamed or downloaded unlimited times.

Depending on your selection, once your order is processed, you will receive a link to all of the materials, plus either instructions for joining the Zoom workshop or instructions for setting up your CEU call. Your books will be shipped at no charge to US mailing addresses. If your mailing address is outside of the United States, Celena will get your prior approval of the shipping charge before sending the books.

As always, we have a 100% money-back guarantee at Understanding Nutrition. If for any reason the Ultimate Eating Disorders Boot Camp Training Package is not what you expected, please contact Celena and she will refund your total purchase price no questions asked AND you can still keep the books. Our goal is for you to find what you're looking for, even if it's not from us. Please note that due to CDR rules we cannot process a refund after CEU credits have been awarded. Therefore if you are requesting a refund, it must be prior to scheduling the final call with Jessica.

If you have any questions or would like to pay in installments, please email Celena at info@understandingnutrition.com or call 214-503-7100. She's Jessica's right hand woman and will be happy to help.

Send Tell-A-Friend Message