The Sleepless Dietitian's Guide Volume One: Advice for the Angst that Keeps You Up at Night
We've all been there. Flopping around in bed replaying a work situation. You want your brain to stop so you can get some rest, but you keep thinking about what went wrong in your day, what you could do better, how you can fix it… wondering who to call who could give you some advice, but not actually wanting wake anyone up…

Great news... Help is here! Grab a midnight snack and cuddle up with The Sleepless Dietitian's Guide Volume One: Advice for the Angst that Keeps You Up at Night on your favorite device.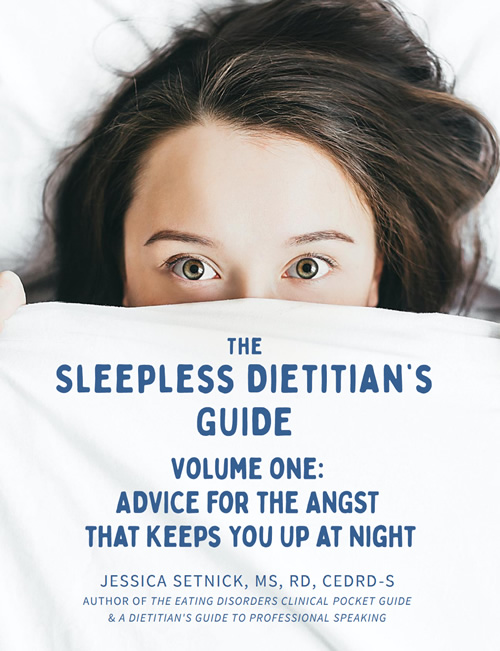 If anyone knows the themes and patterns that counseling dietitians face – and most importantly, how to stop replaying them over and over in your mind! - it's dietitian supervisor extraordinaire Jessica Setnick. With her signature blend of common sense, expertise, and unquestioning belief in the power of dietitians (plus some corny humor, of course) Jessica gives actual answers to actual questions – everything from Why am I constantly talking in circles? to Why won't this person ever call me back? – in categories like Professional Boundaries, Interpersonal Dilemmas, Patient Behavior, Family Situations, and Personal Insecurities.
The Sleepless Dietitian's Guide is a fabulous compilation of 20+ years of solutions and strategies to help you get through all kinds of sticky situations with your professionalism, grace, and integrity intact.
*Important Note: One copy of
The Sleepless Dietitian's Guide Volume One: Advice for the Angst that Keeps You Up at Night
is included in the purchase price of both the
Ultimate Eating Disorders Boot Camp Training Package
and
Jessica Setnick's Live Supervision Boot Camp
.
Thank you for all of the wisdom and knowledge you incorporated into this e-book! The question and answer format is so easy to read and I can hear your voice in each answer. I provide supervision to a number of dietitians and your book is now printed in a 3-ring binder and will be a tremendous help to me in not only in seeing clients, but in guiding other ED RDs too! Looking forward to Volume 2!
I just wanted to say how AMAZING your Sleepless Dietitian's Guide is!! I just read all of the money-related Q and A and you blew my mind and gave me so much freedom! Thank you so much for helping us all with our mindsets! So excited to read volume 2!
- Private Practice Dietitian
Yeah!! You continue to pave the way for all of us with your authentic truth and wisdom!
- Eating Disorder Dietitian
So many professionals will benefit from this book!
- Pediatric Feeding Dietitian
I loved the comparison between the missed appointment and the unworn shoes. It's like you just flicked a light on. No longer will I feel bad about charging people for missed appointments. It's so clear now. Thank you!
- Pediatric Dietitian in Private Practice
Related Dietitian Resources...