The Sleepless Dietitian's Big Book of Answers
Advice for the Angst That Keeps You Up at Night!


The lastest dietitian book from Jessica Setnick, MS, RD, CEDRD-S.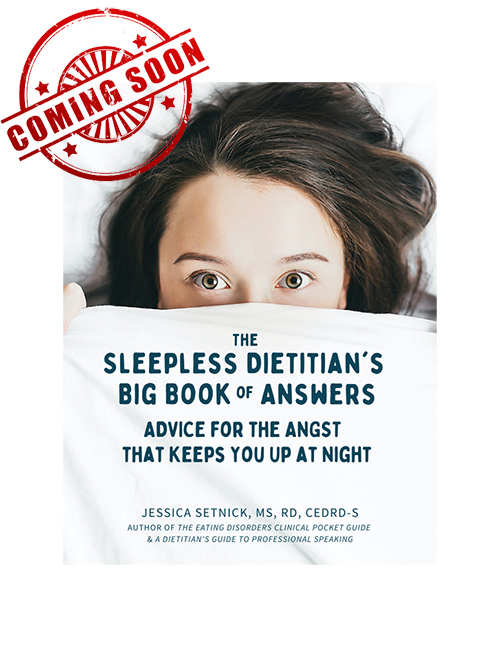 We've all been there. Flopping around in bed replaying a work situation. You want your brain to stop so you can get some rest, but you keep thinking about what went wrong in your day, what you could do better, how you can fix it… wondering who to call who could give you some advice, but not actually wanting wake anyone up…
I have great news… Help is on the way. Soon you'll be able to grab a midnight snack and cuddle up with
The Sleepless Dietitian's Big Book of Answers
, the newest release from Jessica Setnick.
With her signature blend of common sense, expertise, and unquestioning belief in the power of dietitians (plus some corny humor, of course) Jessica gives actual answers to actual questions – everything from Why am I constantly talking in circles? to Why won't this person ever call me back? – in categories like Professional Boundaries, Interpersonal Dilemmas, Patient Behavior, Family Situations, and Personal Insecurities.
It's a fabulous compilation of 20+ years of getting to know the themes and patterns that dietitians face – and most importantly, how to break out of them with professionalism, grace, and integrity intact.
Send Tell-A-Friend Message
Related Dietitian Resources...