Antidotes to Ambivalence: Correcting Cognitive Errors & Helping Eating Disorder Patients Choose Recovery
Antidotes to Ambivalence: Correcting Cognitive Errors & Helping Eating Disorder Patients Choose Recovery - Audio file [mp3] of Jessica presenting and Handouts [pdf]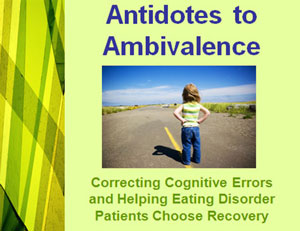 Professionals treating eating disorders face a challenge rarely encountered in other fields – patients who don't want to recover because their disorder is "working." This ambivalence toward recovery can stall even the most intensive treatment efforts. How can you encourage patients to look at things differently without becoming the enemy? The answer: Antidotes to Ambivalence: Correcting Cognitive Errors and Helping Eating Disorder Patients Choose Recovery.
Presented to rave reviews at the University of Arizona Love Your Body Day 2011
This presentation covers seven of the most common mistaken beliefs that keep patients engaged with their eating disorder….
"My weight will make me happy."
"I must eat perfectly."
"I can control my weight."
"I want to change."
"My past is behind me."
"If I eat whenever I'm hungry, I'll get fat."
"I will know when I am good enough by how it feels."
…and how to prove that they are no longer working.
PLUS the most common mistake that professionals make!
Included: Downloadable Audio mp3 file
Downloadable Slide Handouts


Optional – want to discuss the webinar with Jessica? Professional consultation available. Please call 214-503-7100 or email Info@UnderstandingNutrition.com.
Send Tell-A-Friend Message